Obama's budget whacks 121 programs
In a $3.5 trillion spending plan released Thursday, the White House proposes $17 billion in cuts – including some items that President Bush also tried to ax.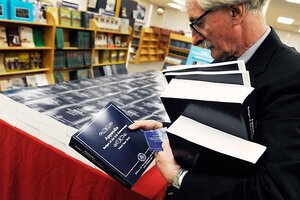 Jonathan Ernst/REUTERS
It's good that President Obama is trying to wring waste out of the US budget, say deficit hawks. But the $17 billion in cuts proposed by the administration on Thursday are small change in the context of $3.5 trillion in annual federal spending.
Plus, Obama's hit list leaves unaddressed what many experts cite as the real US deficit difficulty: fast-growing entitlements, particularly the big health programs Medicare and Medicaid.
"I have a little bit of concern that by making a big deal out of these program cuts [Obama] doesn't prepare the public for the really tough choices we need to make in the years ahead," says Robert Bixby, executive director of the Concord Coalition, a group that promotes deficit-reduction.
Obama outlined his recommended $17 billion in savings at a time when he is attempting to rally the nation behind his economic policies and convince both voters and markets that he will be fiscally prudent in years to come.
On the chopping block
The 121 programs on his cut list ranged from the C-17 airlifter to early education efforts to federal programs that pay for the cleanup of abandoned mines.
The thread that connects all the targeted programs is that they no longer work, said administration officials. They are either outmoded, duplicated by other government efforts, or simply unnecessary.
---