Obama's defense budget shifts focus to Afghanistan and Pakistan
The administration also ends accounting practices that kept war funding from public scrutiny.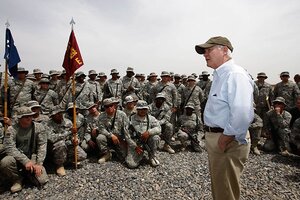 Jason Reed, pool/AP
President Obama's new Pentagon budget requests more money for Afghanistan than it does for Iraq – the first time this has happened since the US-led invasion of Iraq in 2003.
The change reflects Mr. Obama's shifting of US priorities as the administration begins to draw down the 136,000 troops in Iraq while pushing resources toward the complex challenges posed by Afghanistan and Pakistan.
Pentagon officials released details of the new $534 billion defense budget for fiscal 2010 Thursday, noting that the additional request for war funding that accompanied it includes $65 billion for Afghanistan and $61 billion for Iraq.
"This request is where you're going to first see the swing of not only dollars or resources but combat capability from the Iraqi theater into the Afghan theater," said Vice Adm. Steve Stanley, director for force structure, resources, and assessment on the Pentagon's Joint Staff, during a crowded press conference.
Defense Secretary Robert Gates has said his budget positions the department to fight "irregular warfare" in places like Iraq and Afghanistan, with more money for remote-control aircraft, helicopter crews, and special operations forces to conduct training.
---