Spotting stars at the White House Correspondents dinner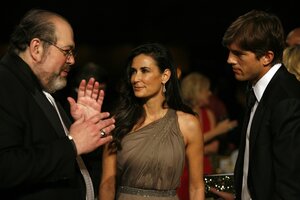 NEWSCOM
After all these years, I have figured out the best way to attend the White House Correspondents' Association dinner ­ or at least this year's dinner: with a 16-year-old girl.
Rebecca had an eagle eye for celebs, some of whom I would never have recognized. Ludacris? I've heard of him, but that's it. But there he was on the red carpet, with his mother (smart guy!), and I wasn't completely clueless.
Other folks were easy to recognize, but Rebecca was much better at spotting them in the crowd. There's Owen Wilson! Will he pose for a picture with a young fan? Sure.
Same with Steven Spielberg, George Lucas, Eva Longoria Parker, Demi Moore, Jonathan Rhys Meyers, Jason Bateman, Amy Poehler, and on and on. We also tracked down Ed Westwick, the wonderfully arch Chuck Bass on "Gossip Girl," with the help of Ana Marie Cox, Wonkette emeritus.
---