Congress moves to regulate credit cards
Lawmakers have been getting an earful from disgruntled consumers.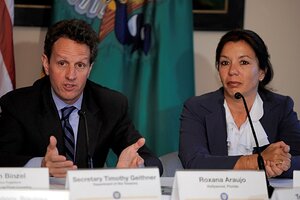 Mike Theiler/Reuters
For the 70 percent of US households that use credit cards, many of the nasty surprises in the fine print of credit agreements are on a path to extinction.
The Senate is on track to pass credit card reform this week, likely with a big bipartisan vote. The House passed its version of the bill late last month. President Obama says he wants a bill to sign by Memorial Day.
Even if Congress fails to act, the Federal Reserve already has passed rules of its own to ban many of the most abusive practices by July 2010. These include double-cycle billing, where consumers are billed for both their past and current statements; arbitrary increases in interest rates on existing balances; and credit-card companies' tactic of allocating any payments in excess of the "minimum amount due" to lower interest-rate balances first.
Lawmakers are getting such an earful from voters on the woes of credit-card debt that the Congress could wind up with a stronger package of consumer protections, including a revival of state laws banning usury.
The bipartisan agreement reached by the Senate Banking Committee this week allows rate increases on delinquent accounts only after 60 days. The House version of the bill allows credit card companies to raise rates on past-due balances only after 30 days. In addition, the Senate bill would block credit-card companies from raising rates on new accounts for a year and requires a 45-day notice of any rate increase.
---