Down to the wire on California's budget crisis
As voters face ballot measures, critics say Governor Schwarzenegger is using scare tactics.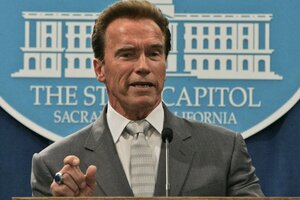 Rich Pedroncelli/AP
This state's largest newspaper has dubbed the two plans "grim and grimmer."
Unveiled by Gov. Arnold Schwarzenegger on Thursday, the proposals are meant to address the state's budget crisis, which has grown by $21.3 billion since a bill was signed in February, closing a $42.5 billion gap – the largest state budget gap in American history.
With six initiatives on a special election ballot for Tuesday – all designed to deal with the state's chronic economic problems – one of Governor Schwarzenegger's plans is to deal with what the state's deficit will be if the measures don't pass ($21.3 billion). The other is for what happens if they do pass (a $15.4 billion deficit).
Five of the measures seem destined to fail, several state polls show. They include, among other ideas, altering the state lottery, extending recent tax increases, and diverting money from voter-approved programs. They account for $6 billion of the deal Schwarzenegger and lawmakers reached in February.
"This is the harsh reality of what we face," Schwarzenegger told a Capitol news conference. "Sacramento is not Washington.... We can't spend what we don't have." The state's annual income-tax collections have fallen for the first time since 1938.
"Obviously, the situation is unprecedented, and the state can't print money to take care of the deficit," says Robert Stern, president of the Center for Governmental Studies in Los Angeles.
In both plans, Schwarzenegger has to borrow $6 billion, cut K-12 education by $3 billion, lay off 5,000 of the state's 235,000 workers, cut funding to hospitals, and possibly reduce eligibility for healthcare programs – if he can get federal permission.
---