Obama answers Notre Dame hecklers with 'fair-minded words'
The speech underlined the president's desire to elevate public discourse on issues such as abortion in order to find common ground.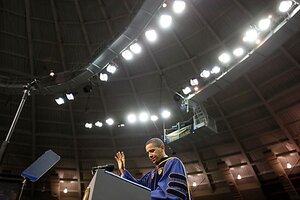 Gerald Herbert/AP
President Obama used his graduation address at the University of Notre Dame as a teachable moment.
Mr. Obama did not skirt the matter of the mounting protests here, which objected to the president – who supports abortion rights – addressing a Catholic school. Rather, he made it the central point of his speech, underscoring what has become a bedrock tenet of this administration: a commitment to a more civil and substantive dialogue both here and abroad in an effort to find common ground.
At Notre Dame, he spoke of "fair-minded words."
It had a direct application to Sunday's speech. Outside the auditorium, an estimated 100 protesters gathered to decry the president's positions on abortion and stem-cell research. Inside, four hecklers interrupted proceedings.
Obama responded to them indirectly by recounting an e-mail he received several years ago from a doctor who opposed abortion rights. Taking issue with a comment on Obama's website that seemingly portrayed all antiabortion activists as rabid ideologues, the doctor wrote: "I do not ask at this point that you oppose abortion, only that you speak about this issue in fair-minded words," Obama recounted.
---