Janet Napolitano, master multitasker
Homeland defense one moment, swine flu the next. She juggles the disparate needs of a cabinet conglomerate.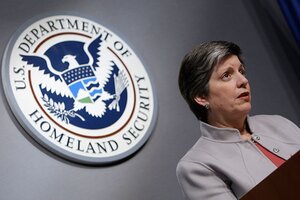 AP
WASHINGTON - As a child, Janet Napolitano played clarinet in the Albuquerque Youth Sym­phony. She loved music and thought she might become a band director when she grew up.
In a way, she has. As President Obama's secretary of Homeland Security, Ms. Napolitano's biggest job is to get the many parts and functions of her conglomerate cabinet department to work together.
It's not an easy task. Homeland Security's subgroups include the Secret Service, US Customs, the Federal Emergency Management Agency, and the Coast Guard. Napolitano's day can touch on everything from border control to hurricane preparation and protection for the nation's cyber resources.
All this in an organization that did not even have a departmentwide e-mail system until recently.
"It is very much now in the process of becoming a unitary department," said Napolitano at a May 19 Monitor breakfast here.
Of course, unity – in an Obama­esque, can't-we-all-work-together kind of way – has long been one of Napolitano's political hallmarks. For her, there was no other way to survive as a Democratic official in Arizona, a state long dominated by conservative Republicans.
Her talent for compromise when necessary worked well enough for her to win three statewide elections: one for attorney general and two for governor. Her centrist record on border issues was a reason Mr. Obama picked her for one of the cabinet's most difficult and sensitive posts.
---