Michigan leaders give Obama deputy an earful over GM plans
Cabinet members are touring auto country to offer the administration's support. Michigan stands to be hit hardest by GM's bankruptcy plans.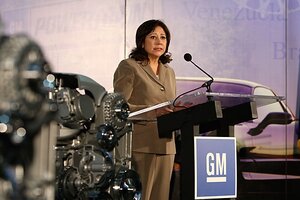 Carlos Osorio/AP
Many of Michigan's most influential state- and local-level leaders gathered in a college boardroom Tuesday to welcome their guest of honor: US Labor Secretary Hilda Solis.
Then the interrogation began:
Why did General Motors choose to close the plants it did?
When will more federal help arrive for a state that leads the nation in unemployment with a 12.9 percent jobless rate in April?
What can President Obama do to stop so many manufacturing jobs from flowing to Mexico?
Of the nine states affected by GM's bankruptcy plan, announced Monday, Michigan will be hit the hardest. Total job losses in Michigan are 8,900, or 42 percent of all GM's bankruptcy-related job cuts in North America. Secretary Solis's presence at Eastern Michigan University Tuesday was the Obama administration's acknowledgment that Michigan faces unique challenges in the current recession.
State and local officials wanted Solis to turn that condolence into concrete action Tuesday. To some degree, she did, announcing the release of $49 million for the training and support of Michigan workers. But Michigan leaders will press for that spigot to open wider in the coming months.
"All I can tell you is you are very much on our radar screen. Our president gets it," said Solis.
The choice of venue for Tuesday's meeting was appropriate. Worker retraining programs are a central element of Michigan's attempts to recast its economy, and Eastern Michigan University is leading that effort. One of its programs is aimed at displaced, middle-aged auto workers who have spent a career working the factory floor. The goal is to help them transition into management roles or technology-industry jobs.
---