Supreme Court choice could reignite culture wars
Judge Sotomayor's confirmation hearings could provide the spark on hot-button issues such as gay marriage and abortion.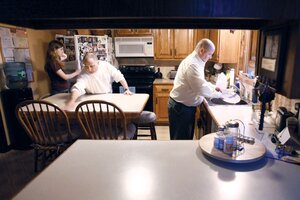 Steven Senne/AP
Since taking office, President Obama has yet to utter the phrase "gays in the military" or "don't ask, don't tell" in public.
That is by design. Mr. Obama knows well the lessons of the last Democratic president, Bill Clinton, who stumbled early when he ended the military's ban on service by openly gay people, only to retreat after an outcry. During the 2008 campaign, Obama promised to end "don't ask, don't tell" – the 1993 compromise that allows gays to serve, as long as they keep their sexual orientation private. But as president, he still has not fulfilled that pledge and has, in fact, taken heat for allowing gay service members to continue to be discharged.
For the most part, on issue after issue in the long-running "culture wars," Obama has played it low-key. After all, he has a deep recession and two wars on his plate. But as the Senate prepares to hold confirmation hearings for Obama's first Supreme Court nominee, Sonia Sotomayor, many of the hot-button issues dear to religious conservatives are about to come roaring back – foremost among them gay marriage, abortion, and the role of faith in the public square.
Judge Sotomayor's judicial record on those issues is thin, leading to concern among some liberals. But social conservatives are convinced she will vote against their causes, and – short of unpaid taxes or some other scandal – believe she is likely to be confirmed. Still, they view the hearings as an educational moment that can help the Republican Party.
---