Key health care senators have industry ties
Senator Chris Dodd, among other senators involved in upcoming health care legislation, have family ties or financial investments in the industry they are meant to reform.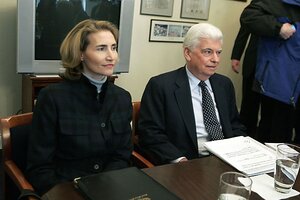 Bob Child/AP/File
Influential senators working to overhaul the nation's health care system have investments and family ties with some of the biggest names in the industry. The wife of Sen. Chris Dodd, the lawmaker in charge of writing the Senate's bill, sits on the boards of four health care companies.
Members of both parties have industry connections, including Democrats Jay Rockefeller and Tom Harkin, in addition to Dodd, and Republicans Tom Coburn, Judd Gregg, John Kyl and Orrin Hatch, financial reports showed Friday.
Jackie Clegg Dodd, wife of the Connecticut Democrat, is on the boards of Javelin Pharmaceuticals Inc., Cardiome Pharma Corp., Brookdale Senior Living and Pear Tree Pharmaceuticals.
Dodd is filling in for ailing Sen. Edward Kennedy, D-Mass., chairman of the Health, Education, Labor and Pensions Committee, which will soon start work on a health care bill.
---