CIA fired firms that helped to develop waterboarding
The CIA renewed, and then terminated, a contract with two psychologists who introduced waterboarding and other techniques.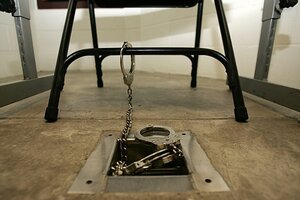 Haraz Ghanbari/AP/File
Weeks after President Obama took office, the CIA extended its contract with a firm run by two psychologists who helped introduce waterboarding and other harsh methods to the agency's interrogation techniques, according to a news report.
Two months later, CIA Director Leon Panetta fired Mitchell, Jessen & Associates and all other contractors that aided the CIA in its interrogations of alleged terrorists, the New Yorker reported this weekend.
The firings took place in April, around the same time the Senate Armed Services Committee reported on the role played by James Mitchell and Bruce Jessen in developing "countermeasures to defeat" the resistance of captured enemy detainees from whom intelligence was being sought.
Mitchell and Jessen, who run the firm, had worked on a Pentagon program that taught U.S. service members how to survive harsh enemy interrogation methods. They relied on elements of that training in proposing an interrogation program for the CIA. It included methods such as sleep deprivation and other actions based on "theories of `learned helplessness,'" the New Yorker reported.
Panetta told the magazine he "didn't support these methods that were used, or the legal justification for why they did it." He also said he supported at one time the creation of a "truth commission" to look into the subject. But after Obama said in late April that he did not want to look as if he was going after either former president George W. Bush or former vice president Richard Cheney, Panetta said, "everyone kind of backed away from it."
---