Harvest time at Michelle Obama's garden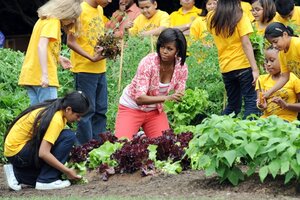 NEWSCOM
While President Obama was busy killing a menacing housefly, elementary school children who had helped First Lady Michelle Obama plant a vegetable garden in April were invited back Tuesday to harvest vegetables.
According to a press pool report by the National Journal's Jerry Hagstrom, White House associate chef Sam Kass said the garden has produced lettuce, snap peas, beans, kale, collard greens, and chard. The children from Washington's Bancroft Elementary School concentrated on harvesting lettuce and peas.
A productive plot
Before today's harvest, White House chefs had already taken 90 pounds of produce from the garden, including broccoli and green beans and one beautiful eggplant, chef Kass said. Herbs have been harvested every night and are not included in the 90 pounds.
The garden's bountiful output has been produced without using fertilizer or herbicide. But the underlying White House soil had been "amended" with crab meal from the Chesapeake Bay, green sand compost, and lime powder, officials said.
---