Regulatory revamp for lending industry
Next up for new regulation: The Obama administration plans to reform securities at heart of the economic crisis.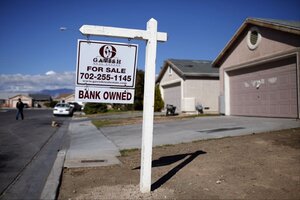 Jae C. Hong/AP/FILE
The Obama administration said Monday that it will seek to overhaul the business of selling investments made from mortgage loans, a marketplace that provided the funding for the housing boom and the tinder for a financial crisis by tying American subdivisions to global markets.
The proposal, part of a regulatory blueprint scheduled to be unveiled Wednesday, would give buyers more information while requiring sellers to share in losses. Officials said the combination will encourage responsible lending, create safer investments and renew the flow of funding for mortgages and other loans.
Lenders would be required to retain at least 5 percent of the risk of losses on each package of loan pieces, known as an asset-backed security.
The employees and contractors who originate loans would be paid gradually, and they could get less if borrowers started to default.
The proposal also takes aim at ratings agencies such as Moody's and Standard and Poor's, which investors rely upon to evaluate the quality of asset-backed securities. Those agencies would be required to make clear to investors that the securities are riskier than traditional investments such as corporate bonds.
These changes address the market at the heart of the financial crisis, but they make up only a small piece of the administration's blueprint. The plan would give the Federal Reserve new powers to restrict the risks taken by large financial firms. It would create a new authority to dismantle firms that fall into trouble and a separate agency to protect consumers of financial products such as mortgages and credit cards.
Many pieces of the proposal would require legislation.
---