Another budget showdown expected in California
California proposes new taxes and budget cuts as it struggles to tame its $24.3 billion deficit.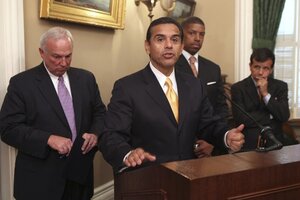 Rich Pedroncelli/AP
Setting up a contentious partisan showdown, a legislative budget panel approved plans Tuesday to boost oil and tobacco taxes, slash money for schools, eliminate the high school exit exam and reduce the budget for state prisons.
But in completing a budget blueprint to put before the full Legislature next week, the committee pulled back from some of the deepest cuts proposed by Gov. Arnold Schwarzenegger to tame California's $24.3 billion deficit.
The Democrat-controlled group, working into the evening, also voted to raise community college fees by $6 a unit, reduce court funding and slice social services for the poor. But members declined to endorse Schwarzenegger's bid to eliminate some health and welfare programs altogether.
The most contentious vote came on the Democratic plan to hike taxes on the oil and tobacco industries.
The proposal, approved on a straight party-line vote by the six Democrats on the 10-member budget panel, calls for a new 9.9 percent levy on oil pumped from California soil, which would produce about $830 million in the coming fiscal year. It would increase the state's cigarette tax by $1.50 a pack, raising $1 billion. And the repeal of a corporate tax break approved just months ago would net $80 million.
But the levies on big business are anathema to the Republican governor and GOP lawmakers, who blasted the plan and vowed to block it.
"In the midst of the worst recession since the Great Depression, it makes absolutely no sense to solve our budget with proposals that target Californians' pocketbooks," said Aaron McLear, Schwarzenegger's spokesman.
Assembly GOP Leader Sam Blakeslee said the proposal to raise taxes portends a battle between Republicans and Democrats that will "jeopardize the Legislature's ability to solve this crisis in time to avoid insolvency."
---