In giving same-sex partners benefits, Obama walks a tightrope
Gay-rights advocates want the president to live up to his campaign promises, but he might be wary of taking up their cause with so much already on his plate.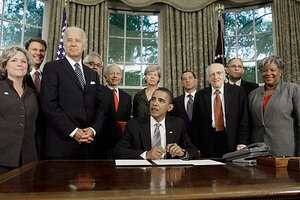 Haraz N. Ghanbari/AP
President Obama signed a presidential memorandum Wednesday extending some benefits to same-sex partners of government employees. Though the memorandum does not offer full healthcare or retirement benefits to partners, it marks Mr. Obama's biggest step since taking office toward fulfilling campaign promises that he would advance gay rights.
Gay rights advocates applaud the steps but are not shouting for joy. Obama had made big promises as a presidential candidate, and he has waited months to delivery anything, they argue.
Analysts surmise that the Obama administration is behaving cautiously on gay rights so as not to jeopardize its ambitious agenda on the economy, healthcare, and foreign policy. Though opinion polls show a warming to gay rights, including same-sex marriage and gays in the military, Obama appears sensitive to not getting ahead of public sentiment. Team Obama well remembers the flap in President Clinton's early days when he proposed allowing gays to serve in the military.
Gay-rights advocates losing patience
But the gay-rights community, big supporters of Obama's presidential campaign, is losing patience. Some gay donors are withdrawing from a Democratic fundraiser next week in an effort to pressure the administration.
On a conference call with reporters before Obama's announcement, John Berry, director of the Office of Personnel Management and the highest ranking openly gay member of the administration, defended Obama's action.
"This is a first step, not a final step," Mr. Berry said, explaining the amount of time it has taken for Obama to make a move.
---