Polls show Obama's honeymoon drawing to a close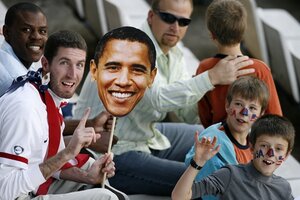 VADIM GHIRDA/AP
As the Obama administration enters a summer of heavy lifting in Congress, two new polls show that while the president remains personally popular voters are taking a more critical look at his policies.
This summer is a critical one for the White House, as it seeks to gets its health care and financial regulation overhaul proposals through Congress. Also on the legislative docket: the president's first Supreme Court nominee, Judge Sonia Sotomayor.
Independents' cooling ardor
While still high, the president's overall job approval and personal ratings have slipped, according to a new Wall Street Journal/NBC News poll released Wednesday evening. His overall job approval rating now stands at 56 percent, down from 61 percent in April. The Journal poll, conducted by Democratic pollster Peter Hart and Republican pollster Bill McInturff, found that among independent voters Obama's rating dropped from nearly two to one approval down to a closely divided stance.
The latest New York Times/CBS News poll, also released Wednesday evening, found a "distinct gulf" between Obama's overall standing and how some of his policy initiatives are viewed. When asked if Obama's economic policies had made the economy better, 48 percent of those polled by the Times said they had no effect yet. Some 60 percent of poll respondents said the president had not developed a clear plan to deal with budget deficits. When asked how Obama had done handling the auto industry crisis, 46 percent disapproved of his performance.
---