Schwarzenegger, Democrats dig in their heels on budget
California's governor said Thursday he would veto Democrat lawmakers' plan if it had any tax hikes.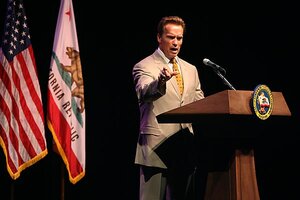 Mark Crosse/The Fresno Bee/AP
Speaking in a Fresno auditorium, with about 50 protesters outside demanding everything from more water for Valley farms to more money for universities and social services, Gov. Arnold Schwarzenegger reiterated Thursday that he would reject any budget from Democrat lawmakers that had tax increases.
The latest bout of wrangling between lawmakers and the governor suggests that Democrats and Republicans here remain far apart on key issues, and the budget process is likely to be protracted over the summer.
Lawmakers missed a Monday deadline to pass a budget amid warnings that the state would run out of money next month.
Governor Schwarzenegger's admonition Thursday came a day after a Democratic-controlled legislative committee proposed a $15 hike in the vehicle license fee, the second this year, and a tax on oil production. The committee also wants to increase cigarette taxes by $1.50 per pack, require income-tax withholdings for independent contractors and close some corporate loopholes. Schwarzenegger already increased personal income, sales and vehicle taxes in the February budget deal.
Speaking before a 200-strong audience, including Fresno Mayor Ashley Swearengin and Clovis Mayor Harry Armstrong, Schwarzenegger said he will not sign any budget that has tax or fee increases. Instead, he said, he would cut money to education, healthcare, and prisons.
"They used to ask Willie Sutton, 'Why do you rob banks?' And he would say, 'because that's where the money is' ... and so Governor Schwarzenegger has gone after the places where California spends its money," says John Ellwood, a professor of public policy at the University of California, Berkeley.
---