Congress – including Democrats – in no hurry to approve Obama's regulatory reform
Lawmakers have a lot on their plates, plus they're still smarting from earlier bailouts.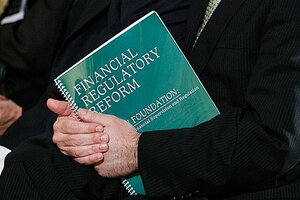 Kevin Lamarque/Reuters
Congress is not inclined to rubber-stamp or even move quickly on the Obama administration's blueprint for a financial regulatory makeover.
That's the takeaway from Treasury Secretary Timothy Geithner's first appearance before a congressional panel to defend the new plan.
Many other big issues are clamoring for lawmakers' attention: a historic reform of healthcare, a vast overhaul of US energy policy, two wars, and a Supreme Court confirmation fight. But oversight of the financial services industry has legislative hurdles all its own.
Many lawmakers are still smarting from Congress's quick approval of the Bush administration's Troubled Asset Relief Program (TARP), seen as a bailout for the "too-big-to-fail" bad actors that helped cause the problem. This time, they say, Congress has got to get it right.
In any new reform, regulators must be "focused and empowered, aggressive watchdogs rather than passive enablers of reckless practices," said Sen. Christopher Dodd (D) of Connecticut, as he opened a hearing of the Senate Banking, Housing and Urban Affairs Committee on Thursday.
Sen. Richard Shelby (R) of Alabama, the ranking Republican on the panel, called for an evaluation not only of the president's proposed reforms, "but more importantly, a close examination of the facts upon which he based his recommendation."
---