GOP senator: Obama's public healthcare plan is dead
Estimates that a government-run plan could cost $1.6 trillion mean it won't pass Congress, said Sen. Lindsey Graham Sunday.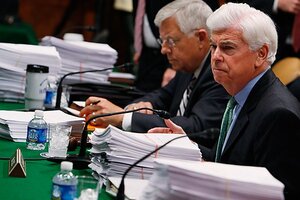 Charles Dharapak/AP
Republican Sen. Lindsey Graham said Sunday that this week brought to an end President Obama's deepest wishes for healthcare reform.
New cost estimates released this week, which suggest that one proposed government-run healthcare option would cost $1.6 trillion and fail to cover two-thirds of the nation's uninsured, was a "death blow," he said on ABC News' "This Week."
The statement is a typical inside-the-Beltway flourish of partisan rhetoric. But it hints at the Republicans' increasingly hardening line and the enormity of Mr. Obama's task.
Though Democrats hold a strong majority in both houses of Congress, major legislation typically needs at least some bipartisan support to secure passage. It was always going to be hard to persuade Republicans to create a government-run healthcare program to compete with private companies and, in theory, drive healthcare costs down – an idea contrary to the GOP's small-government-is-better mantra.
Last week made it even harder.
Two different sets of numbers will give the Republicans renewed resolve.
---