Did Fed chief Bernanke threaten Bank of America officials on merger?
Or did the bank's CEO engage in an 'old-fashioned shake down' in seeking a government bailout?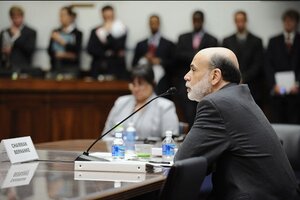 Jonathan Ernst/Reuters
Americans got an in-depth peek inside the government's management of the financial crisis Thursday, as Federal Reserve Chairman Ben Bernanke told a congressional panel he did not threaten the jobs of officials at Bank of America.
At the hearing, Mr. Bernanke faced tough questioning about whether the Fed exerted inappropriate pressure on Bank of America CEO Ken Lewis to press forward with a planned merger with Merrill Lynch late last year. At that time, Mr. Lewis had learned about some $12 billion in unexpected losses at Merrill.
Two weeks ago, Lewis told the House Committee on Oversight and Government Reform that he felt threatened by the Fed and Treasury. The committee heard a different story from Bernanke, who said he made no threat but advised Lewis to go forward with the Merrill acquisition.
The committee will continue to investigate the matter, a case study of the role the government is playing in the private sector during a time of extraordinary stress for the economy. Some lawmakers worry that the Fed may have run roughshod over shareholder rights, in its efforts to contain a spreading panic on Wall Street.
At Thursday's hearing, lawmakers struggled to know who was telling the truth. Where some were skeptical of Bernanke's statements, others said it was Lewis who acted improperly in seeking a government bailout alongside the merger.
---