In the Bible Belt, Mark Sanford's anguish opens door to forgiveness
But with personal scandal, plus his reputation for political prickliness, can he hang on to his position as South Carolina governor?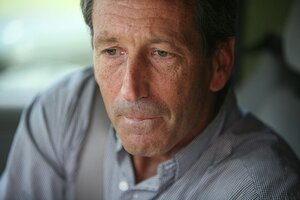 Mic Smith/AP
He turned off his cellphone and disappeared without a trace. He had an affair on the taxpayer dime. He misled and betrayed his wife and family.
In the glare of his return, South Carolina Gov. Mark Sanford – a rising star on the national stage, bogged by political intrigue in his home state – shed tears and apologized. He also vowed to pay back the state for taxpayer-funded business trips to Argentina, where he met "Maria."
But as the man both beloved and reviled for his stubborn independent streak faces calls of resignation from three state newspapers, Governor Sanford has indicated he intends to stay on the job. He prepared to meet his cabinet today to discuss the week's turmoil.
Despite his personal anguish and the love-lorn letters to his paramour published this week, the door has opened among state leaders and the South Carolina public for Sanford to finish his term in office, which ends in 2011. The test, many say, will be whether Sanford can follow his confession with redemption – and become not just a better man, but a better governor.
His public contrition and private anguish may, in the end, help the governor recover, theologians say.
'Empathy for the sinner'
"One of the elements which is genuine forgiveness is empathy for the sinner," says the Rev. Donald Shriver Jr., author of "An Ethic for Enemies: Forgiveness in Politics," who has been following the story. "That doesn't mean approval, but a kind of acknowledgment of humanity which redounds upon us who are making those judgments."
---
Follow Stories Like This
Get the Monitor stories you care about delivered to your inbox.