It's crunch time for Obama's agenda
By the end of July, it should be clear whether his top legislative initiatives – healthcare reform and climate-change legislation – are on track.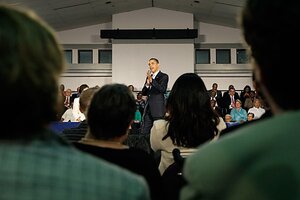 Alex Brandon/AP
It's July 1, and the bell has rung for perhaps the most crucial month yet in Barack Obama's presidency.
By the end of the month, it should be clear whether President Obama's top legislative initiatives – healthcare reform and climate-change legislation – are on track. They don't need to be signed and sealed, but both require significant progress in Congress during this next stretch before the August recess, analysts say.
The swearing-in next week of Sen.-elect Al Franken (D) of Minnesota, who won his eight-month recount battle on Tuesday, gives Obama another crucial vote heading into crunch time. But the challenge remains steep, and in fact, the danger is that the Democrats may feel less inclined to compromise now that, on paper, they have a 60-vote supermajority in the Senate.
On healthcare reform, which Obama highlighted Wednesday at a town-hall meeting in Annandale, Va., the next month might reveal whether Obama and Senate Democrats can converge on a plan. Obama has said he prefers a reform that includes an option for a government-run health-insurance plan that would compete with private insurers. But some Democratic senators, fearful that a "public option" would drive the private insurers out of business, prefer the idea of nonprofit insurance cooperatives, which would be owned and operated by their members.
At Obama's town-hall meeting, the president called this "a defining moment" for the nation. "If we act now [on health reform], then we could rebuild our economy in a way that makes it strong, competitive, sustainable, and prosperous once more," he said.
Obama did not break any new ground on details, such as how he would pay for healthcare reform, which he has promised would not add to the budget deficit. Rather, he continues to frame the debate as reform versus the status quo.
---