Palin's decision to resign: Is it smart?
Some analysts say her political career is over. Others say she will be in a better position now to run for national office.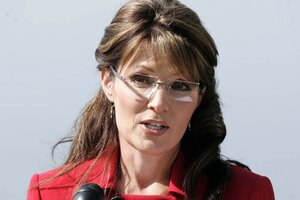 Robert DeBerry/The Mat-Su Valley Frontiersman/AP
Why is Sarah Palin resigning as governor of Alaska?
She has not said, exactly. At her surprise announcement on Friday that she would step down from office July 26, she said only that she did not want to be a lame-duck statehouse executive "in this particular climate."
But the move does make sense if Governor Palin has her sights on national office.
Free to move about the country
For one thing, she won't have to live in Alaska. At least, she won't have to be in Alaska for her day job. Presidential hopefuls generally spend much time testing the waters with short trips to New Hampshire and Iowa. Nothing against the Last Frontier, but it is a long way from Nashua.
Palin needs to leave home if she wants to promote her national presence, says Gerald McBeath, a political scientist at the University of Alaska at Fairbanks. "This is Alaska. It's remote and isolated, and it's not a good place to operate if you want a national presence," he says.
Crunch time for governors, in general
Second, Palin now won't have to make decisions that could cause her political trouble down the road. It's no secret that the recession is making this a tough time to be a governor. Around the country, many are struggling to cut spending and are even raising taxes to try to keep their budgets in the black. All Palin has to do is look south to California and see GOP Gov. Arnold Schwarzenegger's troubles if she wants a glimpse of how bad things can get.
---