A grand reopening for Lady Liberty's crown
An estimated 15,000 visitors endured two-hour waits Saturday to visit the Statue of Liberty – but under new rules only 240 got to climb to the crown.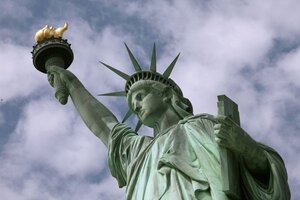 Richard Drew/AP
Requesting a lifetime together after climbing 354 steps in a near-claustrophobic spiral staircase sounds counterproductive. But that's the advice Aaron Weisinger got last month when he asked Brian Snyder to help him scope out the best spot around New York Harbor to pop the question.
Mr. Snyder, vice president of the Statue of Liberty Club, knew the perfect place: Lady Liberty's crown. As would be expected of a man in his position, he had snagged two of the 240 sellout tickets for the July 4 grand reopening of the crown, closed for safety reasons since 9/11, and he was only too happy to give them to Mr. Weisinger.
The seven-peaked headdress holds sentimental value for Snyder. He had proposed to his own wife there 11 years ago. News that the crown would reopen had put him in a cheery mood.
"It's one of those things where it shows the world that you can't keep Americans afraid for too long," Snyder says by phone, echoing a pride evident among the estimated 15,000 visitors who braved two-hour waits to enter the Statue of Liberty Saturday.
For many, the crown's reopening, coming five years after the statue's in 2004, mirrors America's gradual emergence from the pall cast by 9/11.
"When the crown remained closed, it might have suggested that those ideals were also closed," says Erica Doss, a professor of American studies at the University of Notre Dame in South Bend, Ind., and the author of a forthcoming book on post-9/11 memorializing.
---