McNamara stuck to Vietnam War despite doubts
The former defense secretary went on to head the World Bank but could never escape his association with Vietnam.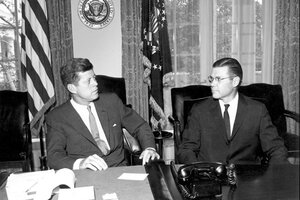 Cecil Stoughton/The White House via John Fitzgerald Kennedy Library/AP/FILE
Robert S. McNamara's public life was defined by his role as a leading architect of the war in Vietnam, despite major achievements in the corporate and non-profit worlds. He passed on Monday.
An enthusiastic supporter of the war in public, Mr. McNamara later admitted in a court case that he had begun to have doubts as early as 1965 or 1966 about whether the Vietnam War could be won militarily. He sent a detailed paper to President Lyndon B. Johnson in May 1967, arguing for a negotiated end to the conflict. Americans, he wrote, "want the war ended and expect their president to end it."
Critics castigated McNamara for staying silent about his doubts while 58,000 American troops died and thousands more were grievously wounded. It was not until his 1995 memoir, "In Retrospect: The Tragedy and Lessons of Vietnam," that McNamara detailed his concerns. "We of the Kennedy and Johnson administrations acted according to what we thought were the principles and traditions of our country," he told the Associated Press. "But we were wrong. We were terribly wrong."
When the book appeared, The New York Times published an editorial arguing that McNamara "must not escape the lasting moral condemnation of his countrymen," adding that what he took from the "poor boys in the infantry" who died for no purpose "cannot be repaid by prime-time apology and stale tears, three decades late."
---
Follow Stories Like This
Get the Monitor stories you care about delivered to your inbox.