Where does Palin's exit leave GOP for 2012?
First, Sen. John Ensign and Gov. Mark Sanford admitted to having affairs. Friday, Palin left politics (for now). But the list of potential Republican candidates for the White House is still long.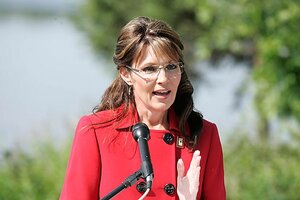 Robert DeBerry/ The Mat-Su Valley Frontiersman/ AP
It's easy to look at the notional 2012 GOP presidential field and think, "What a mess."
Sarah Palin has just taken an unconventional leap by resigning the governorship of Alaska mid-term. Mark Sanford, the governor of South Carolina, has taken himself out of 2012 speculation by disappearing for a while, then declaring his love for a woman not his wife. John Ensign, a senator from Nevada, also recently admitted marital infidelity.
All three names had been floated as possible contenders in 2012. And all three are now being assessed for the damage they have done to their careers, and to the Republican Party.
The toughest to analyze is Governor Palin, who has the most star power of the three and still retains a national following. But she has left her future vague, saying only – as she announced her resignation unexpectedly last Friday – that she intends to "effect positive change outside government."
Of course, less than six months into Barack Obama's presidency, it's way too early to speculate as to whom Republicans might nominate to run against him in 2012, assuming he runs for reelection. Events have spurred such speculation, understandably.
---