A short Senate tenure for Illinois's Burris
Democrats stand a better chance of retaining the seat in 2010 now that Burris – tarred by the Blagojevich connection – has bowed out, analysts say.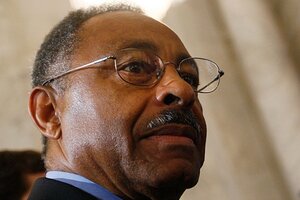 Charles Dharapak/AP/FILE
The US Senate seat held by Roland Burris of Illinois will be up for grabs in 2010 with the announcement in Chicago Friday that Senator Burris will not run for reelection.
Burris, a Democrat and former state attorney general, was nominated to the seat under the cloud of controversy that engulfed former Illinois Gov. Rod Blagojevich. Mr. Blagojevich faces 19 counts of federal corruption charges that include allegations he sought to sell the seat formerly occupied by President Obama.
"I have returned to the place where my political journey began back in 1978 – back to the South Side of Chicago – back to my community and my constituency – to announce that I will not be a candidate in the 2010 election, and that I will not run for the United States Senate," Burris said here Friday, having already reminded his audience that he is currently the only African-American serving in the Senate.
Burris's exit will not be mourned by Democratic Party election strategists. Senate Democrats have just this month gained the 60-vote "supermajority" that, in theory, allows them to halt any Republican filibusters. They hope to hang on to that advantage after the midterm elections, and most saw the Burris seat as vulnerable to GOP competition because he was appointed by an impeached governor.
---