Obama directs $12 billion to community colleges
The goal is to help 5 million people earn degrees and certificates, especially displaced workers.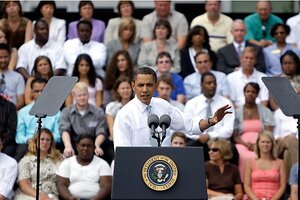 Paul Sancya/AP
President Obama announced plans Tuesday for an unprecedented $12 billion federal investment in community colleges over the next 10 years.
Speaking at Macomb Community College in Warren, Mich., where displaced workers have been flocking for retraining, he set the goal of an additional 5 million people earning associate's degrees and certificates by 2020. To assist community colleges, his "American Graduation Initiative" would:
Create a community college "challenge fund" – competitive grants to foster innovative partnerships among colleges, businesses, workforce investment systems, and high schools.
Fund promising approaches to help community college students reach graduation and secure good jobs, and establish a research center to measure the colleges' success.
Modernize community college facilities through funding that could pay the interest on bonds or seed capital campaigns.
Create a new online skills laboratory: The US Departments of Defense, Education, and Labor would collaborate with community colleges to offer free online courses, in part to expand opportunities for working adults and rural students.
---