Firefighters on Sotomayor: We did not ask for empathy
Sotomayor had ruled against them in a controversial reverse-discrimination case. In Senate testimony Thursday, they vented their displeasure.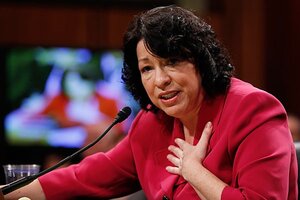 Jason Reed/Reuters
Firefighters from New Haven, Conn., told senators Thursday that they felt they had been deprived of their day in court by the cursory way they were treated in a decision by Sonia Sotomayor and two other appeals court judges.
"We did not ask for sympathy or empathy," said Lt. Ben Vargas. "We asked only for even-handed enforcement of the law."
The firefighters made their comments a few hours after Supreme Court nominee Sotomayor completed 2-1/2 days of questioning by members of the Senate Judiciary Committee. She appeared well on her way to confirmation.
She has been questioned closely on a range of legal and political issues including Second Amendment gun rights, abortion, property rights, the use of foreign rulings by American judges, and the New Haven firefighters case.
At issue in the New Haven case was whether or not the city discriminated against a group of white and Hispanic firefighters when it threw out the results of an employment exam because no African-Americans scored high enough to qualify for a promotion.
A federal judge ruled against the firefighters, issuing a 78-page decision. On appeal, lawyers for both sides were authorized to file briefs exceeding the usual page limits. Both sides clashed in an hour-long oral argument. But Sotomayor and two other judges dismissed the appeal in a one-paragraph summary order.
Two weeks ago, the US Supreme Court reversed the appeals court, ruling for the firefighters. That decision totaled 93 pages of legal analysis, including concurrences and dissents.
---