Why GOP is trending away from women in state legislatures
A study shows that the percentage of women in the Republican caucuses of state legislatures is shrinking – a concern, since statehouses develop political talent for the national stage.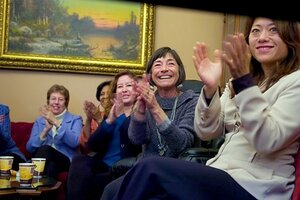 Newscom/File
Ask a Republican strategist to name the party's rising female stars, and chances are you'll get a sigh. There just aren't that many.
What's more, one key part of the GOP's farm team of female political talent is shrinking. Since 1995, the percentage of women in the Republican caucuses of state legislatures has been steadily declining – from 19.1 percent to 15.8 percent today, according to the Center for American Women and Politics at Rutgers University.
Democratic women, by comparison, have been steadily rising as a percentage of their party's state legislative caucuses, from 22.2 percent in 1995 to 31 percent today. Just 21 years ago, in 1988, Republican women were slightly ahead of Democratic women in their respective state legislative party caucuses – 16.4 percent versus 15.3 percent.
"Women are having a pretty tough time within the Republican Party," says Debbie Walsh, the center's director.
The question is: Why? Research indicates that Republican women in state legislatures tend to be more politically moderate than their GOP male colleagues, says Ms. Walsh.
As the two main parties have grown increasingly polarized, some Republican women have looked at the political landscape and seen grim prospects in the primaries, which can be low turnout affairs dominated by the most committed (read conservative) voters. So some women just opt not to try.
---
Follow Stories Like This
Get the Monitor stories you care about delivered to your inbox.