Will Guantánamo close on time?
Halfway to President Obama's deadline, basic aspects of the closure are undecided.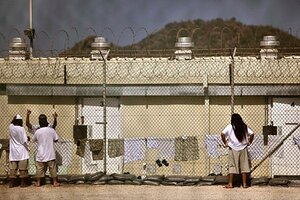 Brennan Linsley/REUTERS/Pool
President Obama's pledge to close the US terrorism prison camp at Guantánamo Bay, Cuba, by January is looking increasingly tenuous.
Roadblocks include a congressional prohibition against transferring detainees to the United States and continuing difficulty finding countries willing to accept men who were once labeled "the worst of the worst."
In addition, Congress and the White House are working on more changes to the controversial on again, off again military commission process to try the detainees.
With many hurdles and no breakthroughs on the horizon, analysts now question whether the prison camp can close on time.
"It is very easy to say you'd like to close Guantánamo; it is hard to actually get it done," says Matthew Waxman, a Columbia Law School professor and former deputy assistant defense secretary for detainee affairs in the Bush administration. "I am skeptical – at least as of now - that the Obama administration will be able to meet its own deadline."
In his first major act as president, Mr. Obama ordered Guantánamo closed by January 2010. But with six months left in the year-long transition, officials appear still undecided on basic aspects of the closure.
For example, the Pentagon's general counsel was unable to say during recent Senate testimony whether military commission trials would be conducted at Guantánamo or somewhere else after the January deadline.
---