Police sergeant stands up to both Obama and Gates
Sgt. James Crowley defends his actions in last week's incident with Professor Gates and says he doesn't "have anything to apologize for."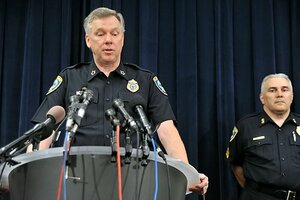 Josh Reynolds/AP
The Cambridge, Mass., police officer accused of "acting stupidly" by President Obama and repeatedly assailed as racist by Harvard professor Louis Henry Gates began to tell his own story Thursday, talking at length to the media for the first time since the incident.
Sgt. James Crowley told a Boston radio station that he will "never apologize" to Mr. Gates for arresting the professor outside Gates's home last week.
"I know what I did was right," Crowley said in an interview with Boston-based WEEI Sportsradio Network. "I don't have anything to apologize for."
At the same time, news reports surfaced that Crowley has taught a class in racial profiling. He was nominated for the post by a local black police commissioner.
Gates has said Crowley arrested him for disorderly conduct only because he was black. Crowley was originally called to the scene because of a tip-off that someone was breaking into Gates's house. In fact, Gates was merely trying to open his front door, which was jammed.
---