Which states get the most federal money?
The government spent $9,184 per person last year. But the money was not distributed evenly among the 50 states.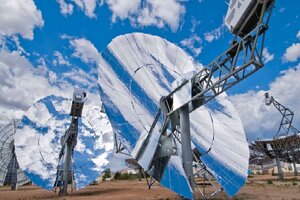 Sandia National Laboratories/AP
Federal spending rose last year at a nearly double-digit rate – 9.3 percent – even before the government embarked on big economic rescue efforts such as bank bailouts and the Obama stimulus.
According to a Census report released this week, the federal government spent nearly $2.79 trillion domestically during fiscal year 2008, which ended last September. That amounts to $9,184 for each person living in the United States.
But that $9,184 was not distributed among evenly among the 50 states. The top state, Virginia, gets more than twice as many federal dollars for each resident as Utah, the bottom state.
(To see the state-by-state breakdown, See Page xxii of the Census report.)
The Top 5:
1. Virginia ($15,256 spent per capita)
2. Maryland ($13,829)
3. Alaska ($13,730).
4. Kentucky ($12,242)
5. New Mexico ($12,017)
The Bottom 5:
46. Minnesota ($7,326)
47. Oregon ($7,264)
---