For Palin, Act I closes, exit stage right
She resigned as Alaska's governor Sunday with her typical populist flare, blasting the president's policies and the press. But details of her future remain a mystery.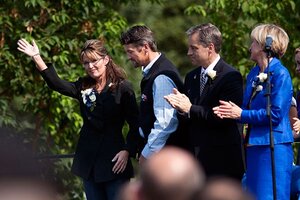 Nathaniel Wilder/REUTERS
In her last speech as Alaska's governor, Sarah Palin sought to leave America with no doubts that though she has retired from public office, the feisty hockey mom – aka "pit bull" in lipstick – who accepted the Republican vice presidential nomination last November remains.
Ms. Palin formally turned over the Alaska governorship to Lt. Gov. Sean Parnell, leaving her post 1-1/2 years early, at the annual governor's picnic in Fairbanks Sunday. But some of her more pointed comments seemed aimed not toward the constituency she was leaving behind, but at the nation at large.
She took a shot at advocates of government programs, including President Obama and his economic stimulus: "We can resist enslavement to big central government," she proclaimed.
She scoffed at those who questioned her decision to leave office early without having another position lined up. "It should be so obvious to you," she said to applause. "With this decision now I will be able to fight even harder for you for what is right, and for truth. And I have never felt that you need a title to do that."
And she had some "straight talk" for some in the press: "Democracy depends on you.... So how about, in honor of the American soldier, you quit making things up?" she said, to more thunderous applause. "Our new governor has a very nice family, too, so leave his kids alone."
For Palin, Monday is the first day of a new career that remains a mystery to anyone outside her innermost circle of friends and advisers. For Alaska, it is a day simply to get back to business – including, perhaps, overturning some of Palin's final decisions as governor.
Sunday, however, seemed more celebration – and anticipation – than retrospection. It was the third of three governor's picnics – first in Palin's hometown of Wasilla, then Anchorage, and last Fairbanks.
---