Sotomayor gets committee nod for Supreme Court seat
But the Senate panel vote is nearly party-line, with just one Republican approving her nomination.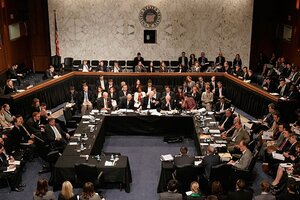 Susan Walsh/AP
President Obama's Supreme Court nominee, Sonia Sotomayor, received an important stamp of approval from the Senate Judiciary Committee on Tuesday, pushing her one step closer to her expected confirmation by the full Senate next week.
The vote was 13 to 6, with only one of the committee's seven Republicans announcing he would cross the partisan divide to vote for Ms. Sotomayor. Republican Sen. Lindsey Graham of South Carolina said he would not have nominated Judge Sotomayor if he were president, but that he came away from the hearings feeling she was well qualified to serve as a justice.
"This is the first Latino woman in the history of the United States to be selected for the Supreme Court. Now that is a big deal," he said. "If she, by being on the court, will inspire young women – particularly Latino women – to seek a career in the law, that would be a good thing," Senator Graham said. "America has changed for the better with her selection."
---