Three senators hold healthcare reform in their hands
At a time when the threat of filibusters is constant, GOP Senators Enzi, Snowe, and Grassley can wield tremendous influence.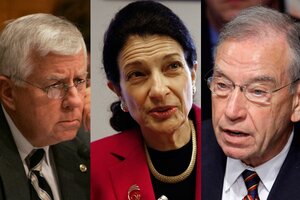 Lawrence Jackson/AP/File, Pat Wellenbach/AP, J. Scott Applewhite/AP
After months of work involving nearly one third of the House and half the Senate, prospects for healthcare reform are coming down to what six senators can work out by a self-imposed Sept. 15 deadline.
For House Democrats, it's a baffling calculus – that so few would matter so much. But it's a situation they have seen before.
Three GOP senators were the swing votes in the Obama administration's economic stimulus plan in February. In 2001, three Republican senators withheld their votes until President Bush reined in his tax cuts.
Now, the essential swing votes on healthcare sit in the Senate Finance Committee, where three Republicans and three Democrats have been thrashing out a bipartisan alternative behind closed doors for weeks.
"As long as you have an institution where the filibuster is used so regularly, then a handful of people will sway the debate," says Julian Zelizer, a congressional historian at Princeton University in New Jersey. "It's been congressional politics for the last two decades."
---