Alabama county lays off 1 in 4 workers after bond fiasco
Jefferson County risks becoming the largest local-government bankruptcy in recent US history.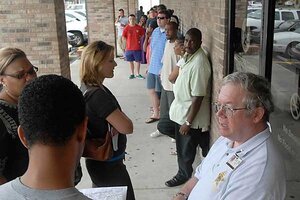 Jeff Roberts/The Birmingham News/AP
Forced to lay off nearly one-fourth of its workforce on Monday, Alabama's Jefferson County – home to a quarter of all Alabamians – has become a warning klaxon for thousands of US municipalities that dabbled in risky municipal bond investments.
The county is, in effect, out of money. After a judge declared months ago that an occupational tax imposed to pay off a massive sewer bond was unconstitutional, officials were unable to take steps to avert the layoff of more than 1,000 county workers on Monday.
Residents looking to pay their taxes or renew their car registrations are now seeing Soviet-style queues in the few courthouses that remain open. The county has also said it has no money to bury indigent residents who have died.
"The cutbacks are draconian; it's quite a mess," says Paul Pecorino, an economist at the University of Alabama at Tuscaloosa.
Not out of the woods yet
The county (pop. 640,000), which contributes a third of the state's gross domestic product, also faces the possibility of becoming the largest municipal bankruptcy in recent US history.
Its predicament epitomizes the kind of bravado financing, reckless spending, and lack of government oversight that fueled the national recession, economists in Alabama say.
The core issue, they say, is that county politicians looking to minimize costs for big projects didn't properly vet the complicated derivatives and other financing instruments they were being pitched by out-of-state bond bankers. In that, Jefferson County is in good company.
"This is happening in a lot of different places," says economist Robert Brooks, president of Financial Risk Management LLC in Northport, Ala.
So far, the financial quagmire hasn't hurt the political career of its main player: Larry Langford, who put the bond package together, is now the mayor of Birmingham.
---