Cash for Clunkers is popular, but is it truly a US stimulus?
Detroit has not said whether it will boost auto production now that Congress has allotted $2 billion more to the program.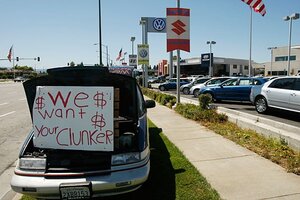 Marcio Jose Sanchez/AP
With an additional $2 billion in funding, the "Cash for Clunkers" program has a new lease on life until Labor Day. But it's not clear if Clunkers, the sequel, will show the same robust results that the program did in its first week, quickly running through the $1 billion that was supposed to last until November.
The biggest wild card is whether US automakers will step up production to meet new demand, as the White House and congressional Democrats say they expect. So far, none of the Big Three – General Motors, Ford, or Chrysler – has committed to ratcheting up production levels or new hiring.
"Businesses across the country – from small auto dealerships and suppliers to large auto manufacturers – are putting people back to work as a result of this program," asserted President Obama in a statement Thursday, after the Senate approved more funding for Cash for Clunkers.
While the program is popular with dealers and, certainly, Americans who've tapped it, questions remain about its true stimulative effect on the economy.
---