Governor Sanford facing impeachment whispers again
This time, it's about politics, not an Argentine mistress. A state senator is investigating whether the governor used state money inappropriately on his travels.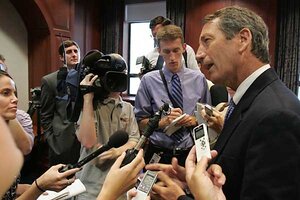 Mary Ann Chastain/AP
South Carolina Gov. Mark Sanford's troubles are apparently far from over.
First came his incommunicado absence, then revelations of an Argentine mistress, and a tearful admission of personal failure – a drama that threatened to loosen his grip on the reins of the Palmetto State.
But the Sanford saga is now moving into a deeper and perhaps even more treacherous territory: a political battle involving an investigation into the Republican governor's travel plans and his use of state aircraft. With a dogged state senator leading a comprehensive investigation into Governor Sanford's alleged misdeeds, impeachment whispers can once again be heard in the State Capitol.
"The dialogue has shifted from a concern about the governor's private conduct to concern about the governor's public conduct," says Blease Graham, a political science professor at the University of South Carolina. "This is more than just sensationalism; it's politics now. There are awkward moments ahead."
Awkward moments are continuing on the personal front.
One reason for Sanford's survival in the topsy-turvy days after his admission of an affair was that his wife, Jenny Sanford, offered to reconcile, appeasing some in Sanford's evangelical base.
---