Grand Junction, Colo. could be a model for healthcare reform
That's why Obama is visiting. This town on the western slope of the Rockies has some of the highest quality, lowest cost care in the country.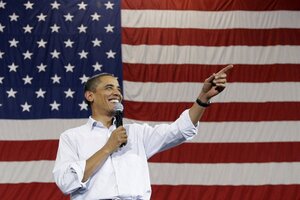 Alex Brandon/AP
In an effort to regain control of a message that seems at times to have slipped away from him, President Obama is hosting a town hall forum on healthcare Saturday here on Colorado's Western slope.
Obama has made a series of campaign-style speeches to communities around the country, making his case for reform. Yesterday he was in Belgrade Montana. But when he takes the stage in Grand Junction, Colo., he could be preaching to the choir.
Politically it's far from a stronghold for Obama, who lost Mesa County by nearly 30 points in 2008. But when it comes to healthcare reform, Grand Junction has some of the highest quality, lowest cost care in the country.
The national average for Medicare reimbursement is $8,300. But in Grand Junction it's about $2,400 less.
Healthcare costs differ from state to state, and even within states, according to The Dartmouth Atlas of Healthcare. For example, the average Medicare reimbursement in Boulder, Colorado is over $9100. In Los Angeles, it's nearly $11,000 and in Miami, it's $16,000.
---
Follow Stories Like This
Get the Monitor stories you care about delivered to your inbox.