Obama 'supports repeal' of same-sex marriage ban, lawyers say
A legal brief filed Monday states the administration's opposition to the Defense of Marriage Act. Yet administration lawyers are still defending the law, angering gay-rights groups.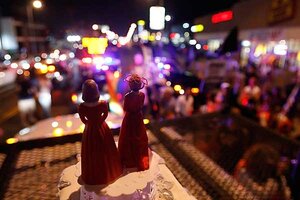 Mario Anzuoni/Reuters
The Obama administration sent mixed signals on same sex-marriage Monday, frustrating both sides of the contentious issue.
In a legal brief filed Monday, Justice Department lawyers asserted that the administration "does not support" an existing law that limits the federal definition of marriage to heterosexual couples, calling it "discriminatory" and saying that the administration "supports its repeal."
Yet in that same brief, Justice Department lawyers ask a judge to throw out a lawsuit against that very same law, the Defense of Marriage Act (DOMA).
It is a sign that the Obama administration is feeling pressure from gay-rights groups, who say President Obama has not done enough for their cause since his inauguration. For its part, the administration appears to feel caught between its duty to defend a law that it sees as legitimate and a desire to overturn it.
In Monday's brief, lawyers said Congress acted reasonably when it passed the law, which not only defines marriage as being between a man and a women but also gives states the right to refuse to recognize gay marriages performed elsewhere.
"We appreciate that this brief represents progress, but it falls short of where it needs to be," says Jennifer Pizer, senior counsel and Marriage Project Director for Lambda Legal, a gay and lesbian rights group.
---