Who still wants to be a young Republican?
In the age of Obama, the GOP scrambles to attract a new generation of voters.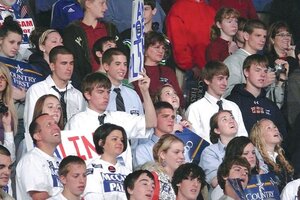 Sue Kroll/NBC Newswire/AP/File
Ryan Tang is a young Republican who voted for Barack Obama last fall. He liked Mr. Obama's talk of bipartisanship. He thought he was someone – finally – who would work with Republicans and Democrats.
But today, just six months into the president's term, Mr. Tang is having buyer's remorse. He doesn't think Obama has lived up to his rhetoric. He's worried about the country veering away from the core principles he believes in: free markets, smaller government, less regulation. Thus he's now inclined to support a candidate with more managerial brio even if he or she is not particularly "cool" – a Republican like former Massachusetts Gov. Mitt Romney or former eBay CEO Meg Whitman.
"And those people aren't hip," says Tang, a recent college graduate who works for a consulting firm in Washington, D.C.
As the Republican Party tries to retool after its drubbing last fall, it can only hope there are more Ryan Tangs out there. For as bad as the party's loss of the White House and retreat in the US House and Senate were, its hit among young people was even worse.
---