How much did 'Cash for Clunkers' drive economic growth?
The White House is claiming victory with the auto-sales program, saying its positive impact on the economy is measurable.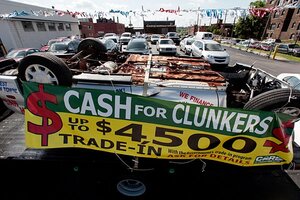 Paul Sancya/AP
"Cash for Clunkers" – it KO'd the recession!
Well, maybe it did not do that much. But as the popular federal program phases out, the White House is claiming that it stimulated the economy in an immediate and measurable way.
That may be an important point for the Obama administration to make as it struggles with public doubts about increasing the government's role in another big sector of the economy – healthcare.
"In a short period of time, what we've seen is a single, small program become an overwhelming overnight success and really drive positive outcomes across the industry," said a senior administration official during an Aug. 20 background briefing for reporters.
Cash for Clunkers, so called, is a $3 billion program that gives consumers as much as $4,500 toward the purchase of a new vehicle if they turn in an older car or truck with worse gas mileage.
The Department of Transportation announced Thursday that the effort will end Monday, Aug. 24, at 8 p.m.
The reason for its demise is its own popularity. Transportation officials figure that given the applications they already have in the pipeline, one more weekend of sales will exhaust the money Congress has approved for the purchase subsidies.
All this activity has already had benefits for the nation's employment rate and overall gross domestic product (GDP), according to the White House.
Ford has announced an 18 percent increase in production due to strong third-quarter sales, according to the senior administration official at the background briefing. More than 10,000 General Motors workers will receive overtime checks they otherwise would not have gotten.
---