Obama's partisan reasons for 'bipartisan' healthcare
Obama needs to woo doubting conservatives in his own party even more than he needs to win over Republicans.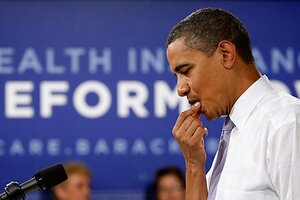 Kevin Lamarque/ Reuters
It is becoming increasingly apparent that President Obama's drive for a bipartisan healthcare bill is, in fact, as much about his own party as it is Republicans.
With a wide majority in the House and a filibuster-proof 60 seats in the Senate, congressional Democrats should be able to do whatever they want. On Sunday, Sen. Charles Schumer (D) of New York said they would do just that to ensure a government-run public healthcare option is a part of any final bill.
"Even if every Republican says that they will not be for a public option,… we will get 60 Democratic votes for it," he said on NBC's "Meet the Press."
Yet on CBS's "Face the Nation" Sunday, that calculus was challenged.
"It is very clear that in the United States Senate the public option does not have the votes," said Kent Conrad (D) of North Dakota. "If we have to get to 60 votes we cannot get there with the public option."
---