Long Senate record made Kennedy a giant in his own right
For decades, most major pieces of social legislation – from healthcare to immigration to education – bore the imprint of Sen. Edward 'Ted' Kennedy, who died late Tuesday.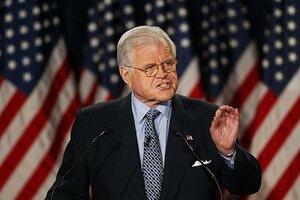 Manuel Balce Ceneta/AP/File
Sen. Edward Kennedy (D) of Massachusetts ended the third longest career in US Senate history in a way few predicted when he began it – out of the shadow of two larger-than-life brothers and with a run of legislative achievements second to none.
From civil rights and immigration, his earliest concerns, to education and workers rights, there were few major pieces of social legislation that did not bear his mark over his 47 years in the Senate.
But the issue the lifelong Democrat called "the cause of my life" was healthcare. It was what kept him on the line to the Capitol through months of medical treatment during the past 15 months. He would not live to see his latest bid for comprehensive healthcare insurance enacted into law.
He gave his first speech for universal health insurance in 1969 and, as chairman of the Senate's health subcommittee, helped launch the war on cancer in 1971. His Americans with Disabilities Act, passed in 1990, banned discrimination in hiring.
"He was one of the most consequential senators of all time," says Alvin Felzenberg, a presidential scholar who teaches at the University of Pennsylvania's Annenberg School for Communication. "Even when Democrats were in the minority, he got things done."
For those familiar only with his decades as lion of the Senate, it's hard to recreate the not-so-great expectations that dogged his early years as a senator, after he was elected in 1962 to replace his brother, President John Kennedy.
---