Is comparing medical treatments akin to 'rationing' care?
Bills in Congress call for panels to conduct 'comparative effectiveness research.' Opponents say it could be the first step to government allocation of healthcare resources.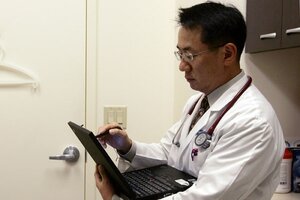 Hyungwon Kang/REUTERS
Should the US government mount a comprehensive effort to evaluate the strengths and weaknesses of various treatments for health conditions? That question is at the heart of a dispute over whether some provisions in the healthcare reform bills now under consideration in Congress eventually might lead to the rationing of care.
At issue is comparative effectiveness research, which tries to figure out just how well drugs, medical devices, and surgical techniques work, compared with alternatives. Both the House and current Senate versions of health legislation would expand exisitng federal efforts in this area.
To supporters, the move is a no-brainer way to try to increase the efficiency of the bloated US healthcare system. But opponents see it as something that Washington in time might use to restrict patient access to risky, unproven, or expensive treatments.
"Cost or a federal health board could be the deciding factor" in treatment decisions, concludes a Heritage Foundation critique of the issue.
Whether Congress approves healthcare reform or not, Washington will be overseeing substantial comparative effectiveness research. The stimulus bill that passed Congress earlier this year contained more than $1 billion for grants in the area.
But provisions contained in the fine print of both the House bill and the current most comprehensive piece of Senate legislation, produced by the Senate Health, Education and Labor committee, would centralize and enlarge US comparative effectiveness activity.
The House bill would establish a federal Center for Comparative Effectiveness Research under the Department of Health and Human Services. This new center would be empowered to "conduct, support, and synthesize" research on the "outcomes, effectiveness, and appropriateness" of healthcare services and procedures.
---