Kennedy and Obama's bond: recent but strong
The president on Saturday will eulogize the man who gave him a crucial endorsement during the 2008 campaign.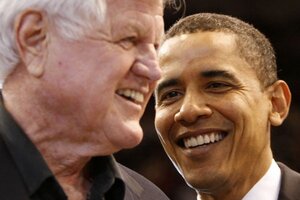 Jason Reed/Reuters/FILE
When President Obama delivers the eulogy at Sen. Edward Kennedy's funeral mass on Saturday, he will make "a very personal statement," says White House spokesman Bill Burton.
Indeed, by the end of his life, Senator Kennedy had become a kind of father figure to Mr. Obama, something the president lacked during much of his childhood. During the presidential campaign, after Kennedy's endorsement of Obama in January 2008, the freshman senator from Illinois came to rely on the advice of the senior senator from Massachusetts.
And it was Kennedy who gave the Obamas their Portuguese water dog, Bo, this past spring – a small indication of how the senator had become family to the first family.
But the Kennedy-Obama bond was a relatively recent phenomenon. Though Kennedy had encouraged Obama to run for president, the two were not close friends in the Senate. Obama, after all, had arrived there only in 2005. Kennedy held back in issuing an endorsement during the heated primary battle between Obama and another Senate colleague, Hillary Rodham Clinton.
---