When does a US president deliver the eulogy?
Obama has already made public comments since Sen. Edward Kennedy's death. But it is Obama's eulogy, to be delivered Saturday at the funeral mass, that could be most revealing.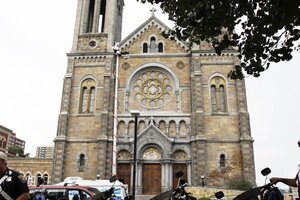 Elise Amendola/AP
It's not unusual for an American president to deliver a public eulogy for a fallen friend, predecessor, or otherwise distinguished citizen.
George W. Bush eulogized two former presidents: Ronald Reagan and Gerald Ford. Jimmy Carter did so for former Vice President Hubert Humphrey. Bill Clinton eulogized former President Richard Nixon, Supreme Court Justice William Brennan, and Pamela Harriman, an ambassador and Democratic activist.
President Obama's first such moment arrives on Saturday, when he will eulogize his mentor and friend, Democratic Sen. Edward Kennedy of Massachusetts, at his funeral mass. Mr. Obama has already made public comments since Senator Kennedy's death on Tuesday, delivering remarks from Martha's Vineyard the morning the news broke.
Obama also issued a proclamation, touting Kennedy as "not only one of the greatest senators of our time, but one of the most accomplished Americans ever to serve our democracy" and ordering that US flags be flown at half-staff at all public buildings. Obama's political operation, Organizing for America, issued a separate Kennedy tribute via its vast e-mail list.
---