How Congress might change the way you buy health insurance
All the reform bills would establish a nationwide system of government-run insurance exchanges. Here's how they'd work.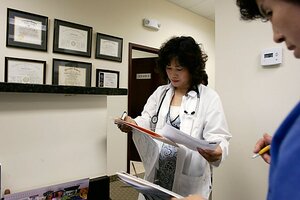 Hyungwon Kang / Reuters
Healthcare reform efforts in the House and Senate are proposing to alter profoundly the way in which many people in the US would shop for and purchase their health insurance policies.
Details differ, but the big health bills now under consideration in both chambers would establish a nationwide system of insurance exchanges – government-run, Web-centered marketplaces intended to make it easy for consumers to compare the costs and benefits of available insurance options.
These exchanges perhaps haven't received the attention paid other aspects of the Obama administration's push to pass healthcare reform legislation. But proponents say they would be a vital piece of the new US healthcare delivery system, serving as subsidy dispensers and insurance regulators as well as places to buy and sell coverage.
"They would be like a supermarket, and a food stamp office, and an FDA [Food and Drug Administration] that oversees food safety, all rolled into one," says Karen Pollitz, a project director at Georgetown University's Health Policy Institute.
Insurance exchanges (they're called "gateways" in the Senate Health, Education and Labor committee bill) are intended as a way to implement healthcare reform's central change: Everybody in the US would have to get health insurance from somewhere. This individual insurance mandate would be the law of the land.
But when it comes to buying health insurance, right now big companies have an advantage over small firms and individuals who buy health insurance on their own. The market power of large corporations enables them to get lower prices and better benefit packages from insurance firms that are competing for their business. That's the theory, anyway.
---