Labor chief: Public option 'essential' for healthcare reform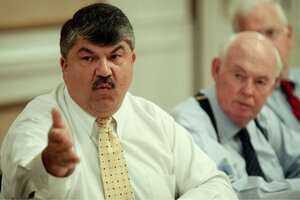 Michael Bonfigli/Special to the Christian Science Monitor
Organized labor, one of the Obama administration's key supporters, is still pushing for a public option in health care reform at a time when the White House is downplaying its commitment to the approach.
AFL-CIO Secretary Richard Trumka, who is slated to become the organization's president at its convention in Pittsburgh later this month, told a Monitor-sponsored breakfast for reporters that a public option is essential. Under a public option, those who did not like or could not afford a health insurance plan being sold commercially could purchase coverage from a government run plan.
Breaking the stranglehold
"If you are interested in health insurance reform, the public option can not go away. It is essential. 94 percent of the insurance markets out there are classified as highly concentrated, that means they are controlled by just a couple of insurance companies," Trumka said. "Now if you are going to break the stranglehold they have on insurance, you have to have a public option so that people have someplace to walk to."
That view conflicts with signals the White House is sending.
Senior officials told the New York Times and Politico that the president would soon make a major speech where he would be much more specific about what elements he considers essential for health care reform. According to Politico's Mike Allen, one aide said, "We have been saying all along that the most important part of this debate is not the public option, but rather ensuring choice and competition. There are lots of different ways to get there."
---